Please fill the below form.
Product Catalog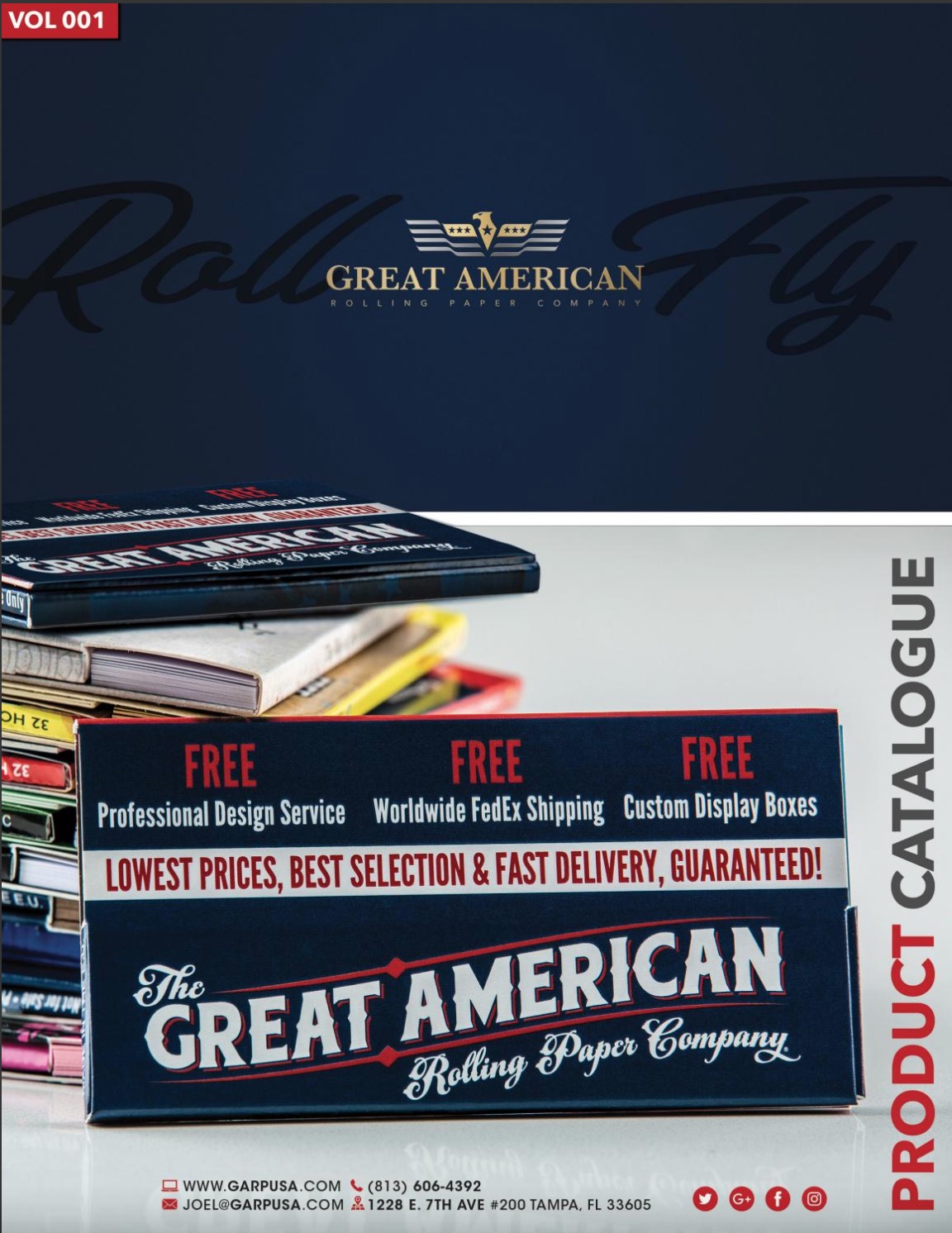 Why Brands Choose Great American.
We specialize in Cannabis Businesses, Marijuana Dispensaries, Growers, Smoke shops & Head shops,
Musicians, Artist, Brands, Awareness Campaigns, Music Festivals, Conferences and more…
AMERICAN CUSTOMER SERVICE
We're an American Company providing American Customer Service. We're available via phone 7 days a week from 8am to 8pm EST.
FREE DOMESTIC SHIPPING
We offer free domestic shipping via FedEx for US orders. Get the orders you need on time, everytime. Track your package from placement to delivery. Customer service is available Monday – Friday for any shipping questions.
AMERICAN DESIGNERS
Our team at Great American Rolling Papers is comprised of local talent right here in States. We offer full branding design services for custom rolling papers with some of the top illustrators to date. We've designed artwork to some of the top artist and culture movement figures in the industry.
24/7
American Owned , American Operated
Lowest Prices.
Best selection.
The Great American Rolling Paper Company (GARP Co.) designs and creates a variety of branded products ranging from rolling papers, to pre-rolled cones, accessories and more for for large events, celebrities, smoke shops, and more anywhere in the world. GARP Co. also produces high-end natural branded rolling papers, free of damaging chemicals, and is 100% organic.
The company is located in Ybor City of Tampa, FL — in the heart of what was the Cigar Capital of the World in the 1930s. The GARP Co. rolling papers are perfect for customers ranging from celebrities, dispensaries, the restaurant and bar industry, high profile events and celebrations, to the cannabis industry, and more that wish to take their brand from concept to design.
Visit Our Product Catalog Page
Promote Business
Custom rolling papers are the new business cards of the marijuana industry. Call us to speak more about how we can help you promote your cannabis business by using custom rolling papers. It's a great way to reach other customers that are in your target audience.
Create own Brand
Want to start your own line of custom rolling papers? Nobody understand your cannabis business branding needs better than us. We've designed some of the top brands in the marijuana industry launch their own custom rolling papers and pre-rolled cone products.
Target Audience
Using custom rolling papers and pre-rolled cones for promotions is a great way to reach your target audience and get infront of your buyers. Rolling papers get passed around and shared with friends which make them a perfect way to help spread the word with others.