Custom Branded Retail Packaging Options
We produce industry certified custom retail packaging for brands and dispensaries all throughout the United States. All of our products are certified to meet or exceed industry regulations.
We provide the complete branding solution from concept to design. 
– Custom Oil Extract Packaging
– Custom Tincture Packaging
– Custom Vape Cartridge Packaging
– Childproof Requirements
Dispensary Packaging Options
Custom Branded Dispensary Packaging
Your brand identity is defined by your logo and messaging, making it crucial to make a strong first impression. The Great American Rolling Paper Company provides expert graphic design services to companies of all sizes, artists, advocates, event planners and more. Our goal is to showcase your product quality through custom-designed packaging and product customization. Whether you're enhancing an existing logo or starting from scratch, our team can help evolve your brand. Plus, with our full line of cone customization, you can find your perfect product all in one place. Show off your designs with fully printed display boxes, promoting your products with style and distinction.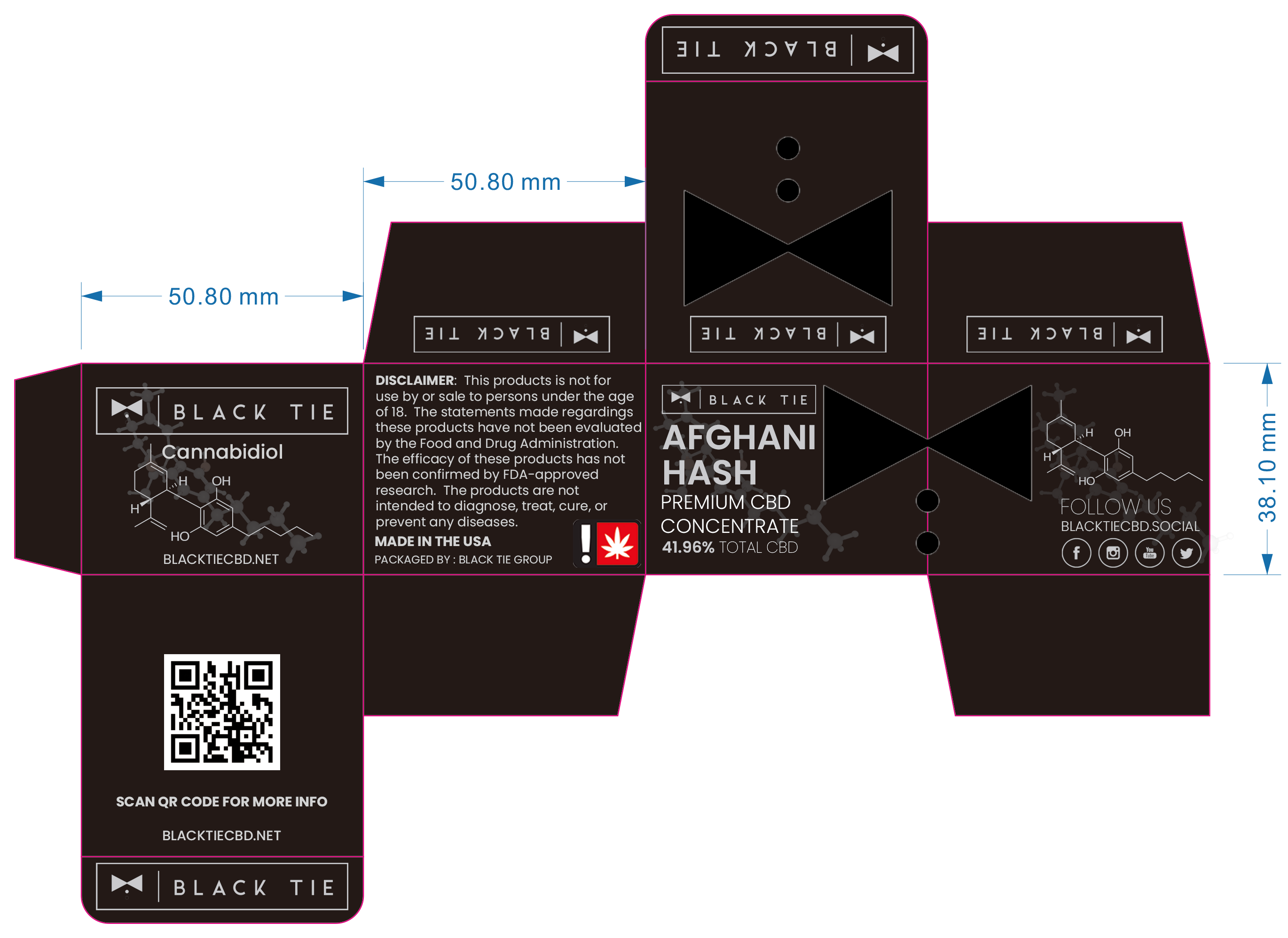 Custom Branded Oil Extract Packaging
Investing in custom branded high quality oil extract packaging has numerous benefits. It differentiates your product from competitors and enhances the perceived value of your product. A well-designed packaging can also attract and retain customers, increase brand recognition, and improve overall brand image. Additionally, custom packaging allows for better product protection and preservation, ensuring the quality of your oil extract is maintained. Invest in custom branded packaging to elevate your product and make a lasting impression on customers.
Tincture Packaging Options
Custom Branded Tincture Packaging
Elevate your tincture product line with custom branded packaging. Our packaging options are designed to showcase your brand's unique identity and promote your products in style. Whether you want a sleek and simple design or something more eye-catching, our team of experts can help bring your vision to life. From box sizes and shapes to custom printed artwork, we offer a full range of customization options to meet your needs. Make a lasting impression on your customers with high-quality, custom branded tincture product packaging from us.
Custom Branded Vape Cartridge Packaging
Custom Branded Childproof Vape Packaging
Child-resistant packaging is crucial for ensuring safety, and we take it seriously. That's why we offer certified child-resistant vape cartridge packaging slide-out boxes, the simplest and most professional way to package your vape cartridges. These boxes come with either a window or without and a universal cavity to hold your cartridges, with a slide-out tray for easy access and a foam insert for added protection. At GARP Co., you can trust that all of our child-resistant boxes are certified for quality assurance.
Pre-Rolled Cones Packaging Options
Custom Branded Pre-Rolled Cones Packaging
Unleash the power of branding with custom pre-rolled cones for your retail packaging. These cones offer a unique and memorable experience for your customers, while also providing an easy and convenient way to enjoy their favorite strains. The custom branding option allows you to showcase your company's logo and messaging, increasing brand recognition and customer loyalty. Elevate your retail packaging game with custom branded pre-rolled cones.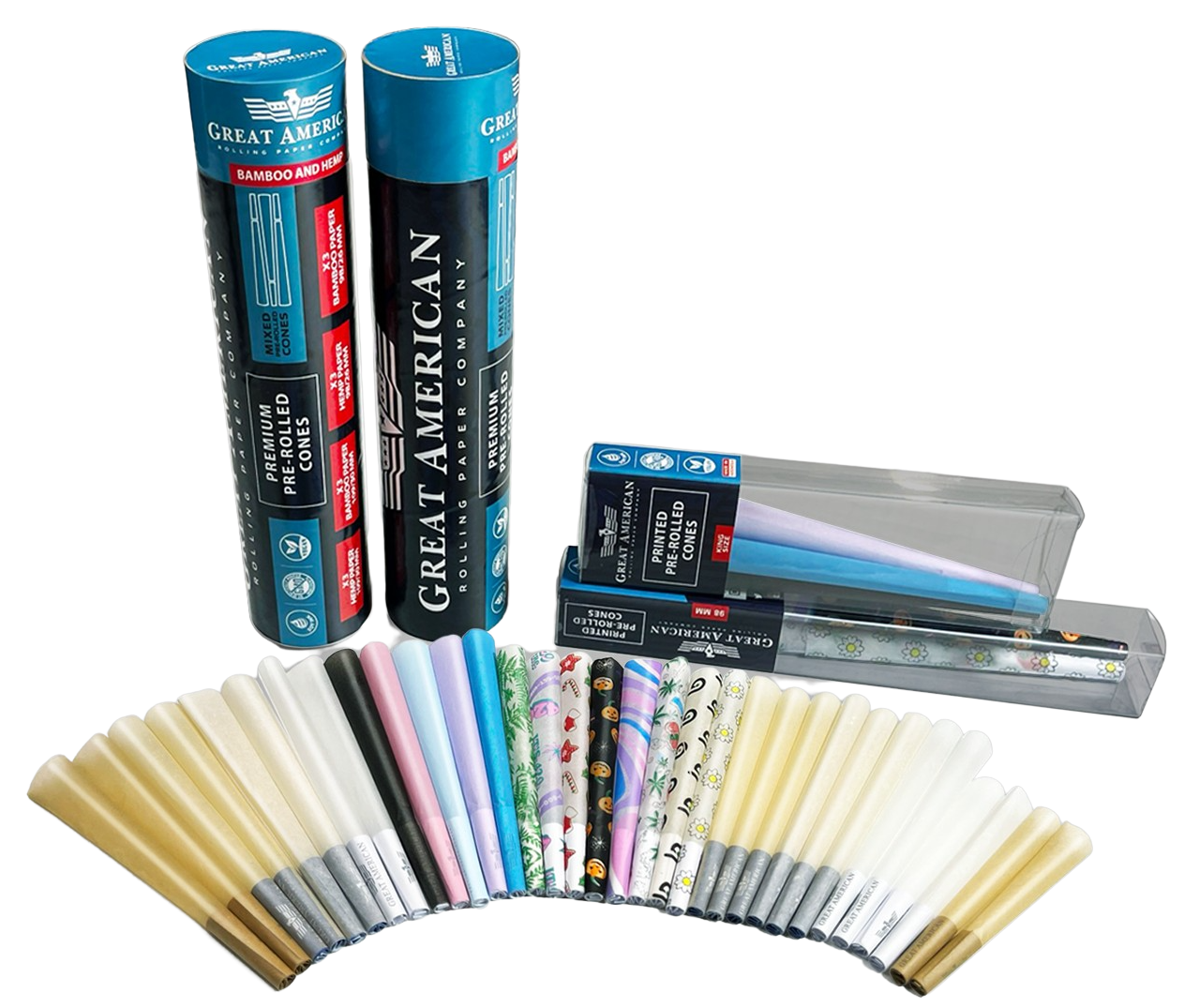 Highlighting our product options
Check Out Our Video on Child
Proof Packaging
You asked for it, we created it! We now have expanded the customization options by offering UV Coating finishes on the boxes. This extends our line of customization which include embossing, silver foil, gold foil, and more on any packaging product. Showcase your product packaging box with fully printed artwork to show off your designs and promote your products with style.
Customize Your Packaging With:
Custom Embossing
We're now offering embossed and debossed product packaging options to give your packaging the look and style you're looking for.
Foiled Printing Options
We offer Gold and Silver foiling for your pre-rolled tips to give you a completely customized and unique product
Box Styles
We offer any size, dimension, and requirement needed to create your finished product in mind. If you have a template, send it over. If you need design work, let us know. We cover it all, from tincture boxes, counter displays, flower packaging, marijuana edible packaging, cannabis topical packaging, accessories and more. Give the pop you're brand needs with our package options.
UV Coating
Coating is where you apply the finishing touches to your custom packaging. UV refers to the curing process for a class of gloss/semi-gloss coatings applied to a custom folding carton.
Let's Discuss Your Custom Cones Today
Contact us today for a free quote and view our catalog online. Garpusa specializes in creating custom branded products in a variety of cannabis businesses's such as marijuana dispensaries, growers, smoke shops & head shops, along with offering creative products for musicians, artist, brands, awareness campaigns, music festivals, conferences and more.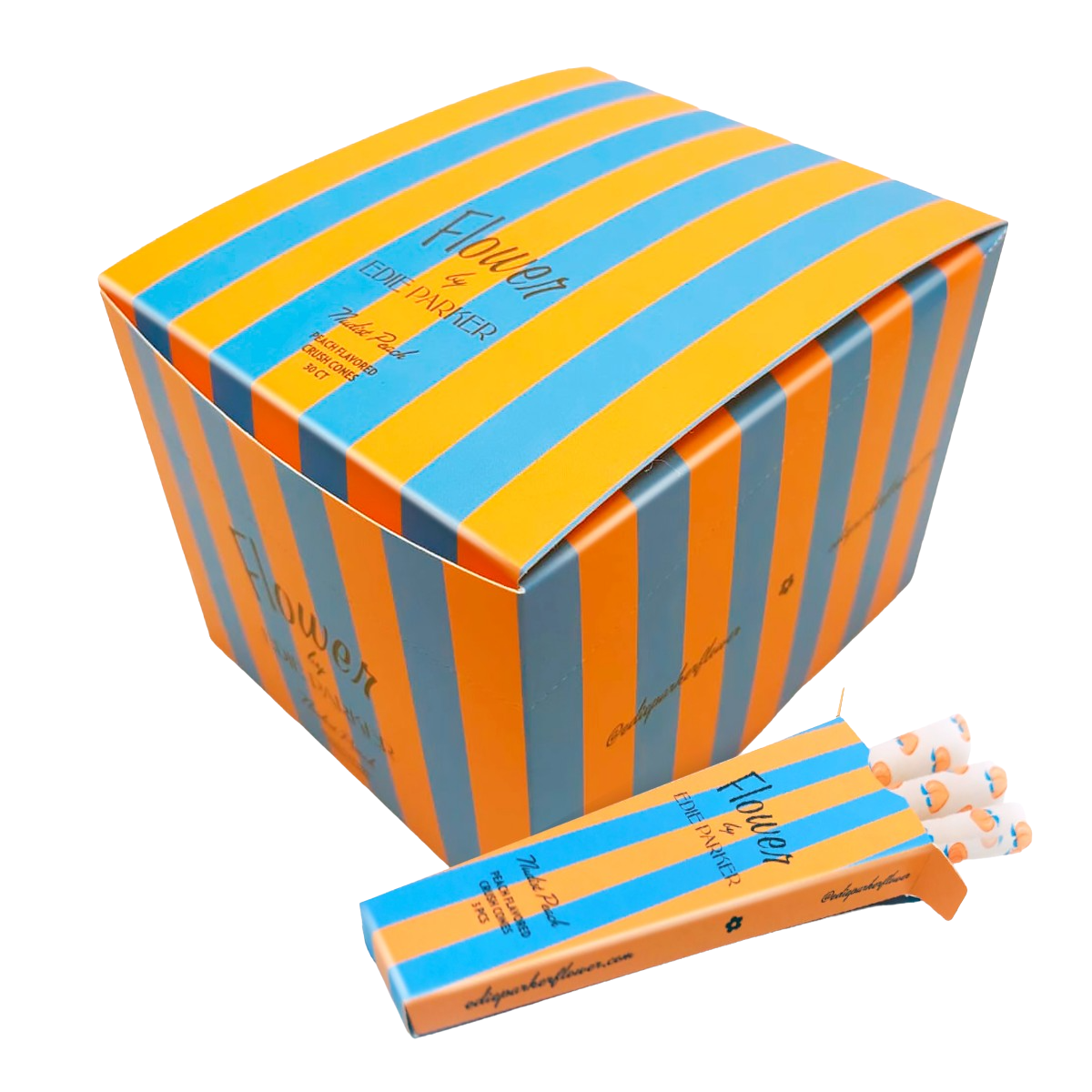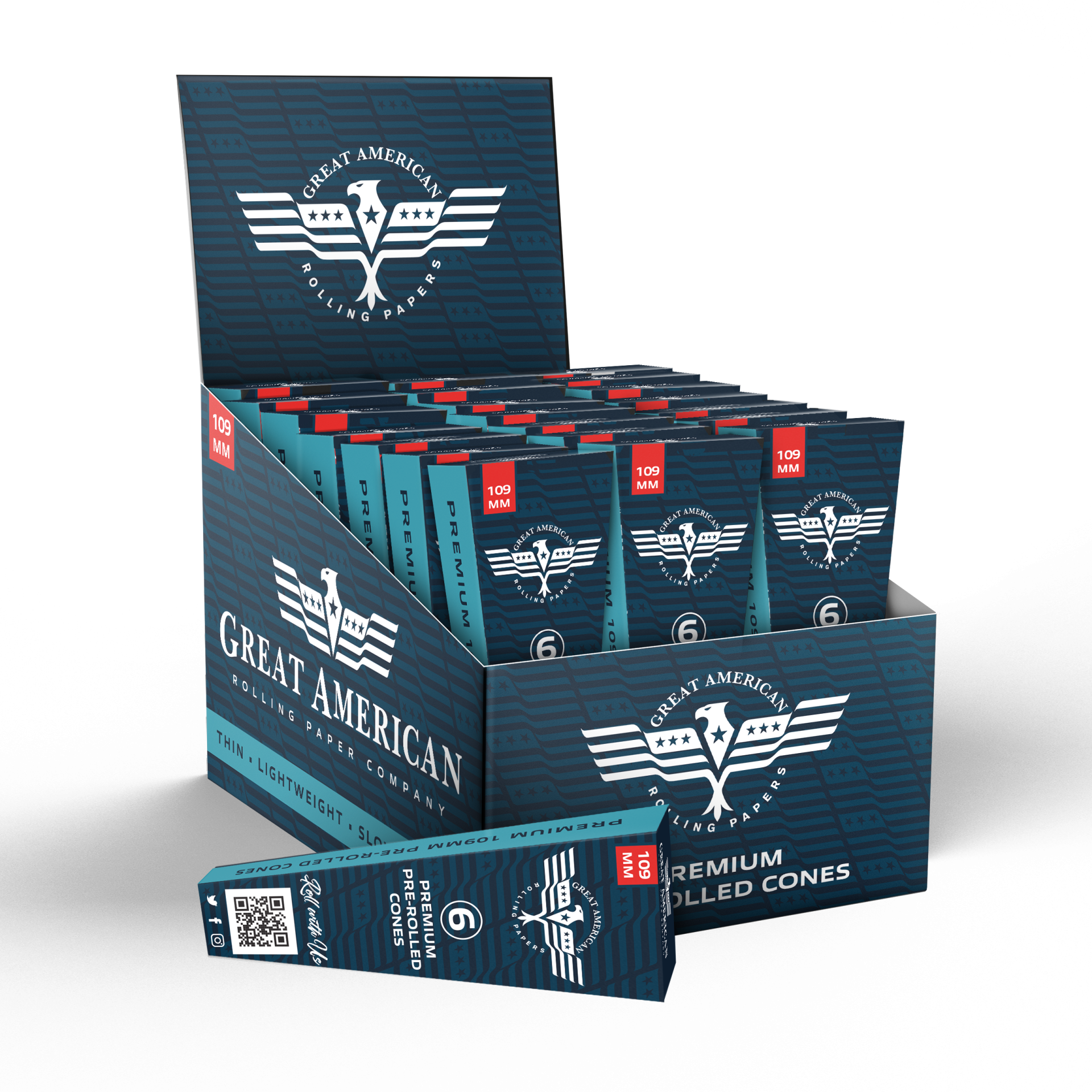 Contact Form for Custom Pre-Rolled Cones
Roll With The Best.
Great American Rolling Papers craft custom rolling papers using only the finest sustainably sourced raw materials. Our papers are thin, lightweight, and slow burning for a refined smoking experience you just can't find anywhere else. We use vegan gum arabic, all non-GMO ingredients, and certified organic hemp. Our
paper is manufactured for folks who care about what they smoke, so if you want to roll with the best, Roll With Great American.
Legendary Customer Service.
At Great American Rolling Papers, customer service is not just a department, it's our whole company. From the first call all the way to final delivery, our goal is creating an amazing customer experience, and total customer satisfaction. There are plenty of companies that do what we do, but none do it better.
Be What You Smoke. Green.
We use all E.U. sourced, responsibly forested raw materials for all of our packaging, and our rolling papers. Our hemp paper is certified organic, and all our gum is natural vegan gum arabic (no horse hooves or chemical based glues). Our rolling papers contain no genetically modified organisms, no dyes, no accelerants and no harsh chemicals. We are FSC (Forest Stewardship Council) certified, and we are committed to environmental protection and ethical material sourcing.
How are your papers made?