Custom branded smoking products.
Everything you need, all in one place.
rolling paper booklets,
pre-rolled cones,
vape products,
and more!
successful cannabis branding starts with
the great american rolling paper company
Free same day shipping on all sample kit orders
Check Out Our Sample Kits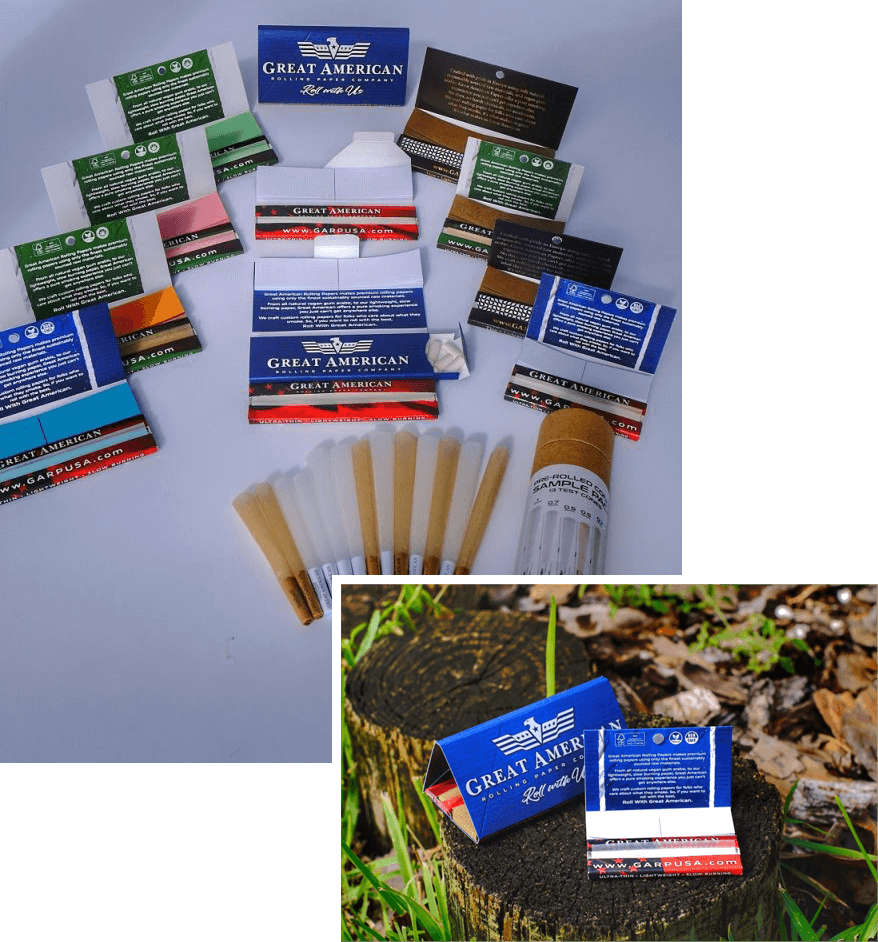 Curious to see the level of quality you can expect when ordering with Great American Rolling Paper Company? Our custom rolling paper sample pack will include everything to give you the ability to feel and test the product before you invest into your rolling paper product.
We have a sample kit that showcases our:
– 100% organic hemp rolling paper.
– unrefined brown raw rolling paper.
– beautiful white rice rolling paper.
– 100% all natural soy ink printed rolling papers.
– all organic natural food dye flavored cones.
Regardless if you're a smoke shop, farmer, dispensary, wholesaler, festival vendor or simply want to start a new brand, The Great American Rolling Paper Company has been providing it's customers worldwide with high quality custom rolling papers and booklets while operating out of our home base in Tampa, Florida
Custom Branded Rolling Papers.
Custom Rolling Papers
Here at GARPUSA, we have sampled and tested rolling papers from numerous vendors worldwide to ensure that we are offering our clients the highest quality rolling paper that exist in the marketplace today. We have papers for every budget level… whether you're looking for Rolling Paper Booklets to hand out as a promotional item or you are building a "brand" offering nothing but the best quality papers to your clients. We will provide you with a product you can be very proud to call your own.



BLUNT WRAP




HEMP PAPER




RICE PAPER
Paper Types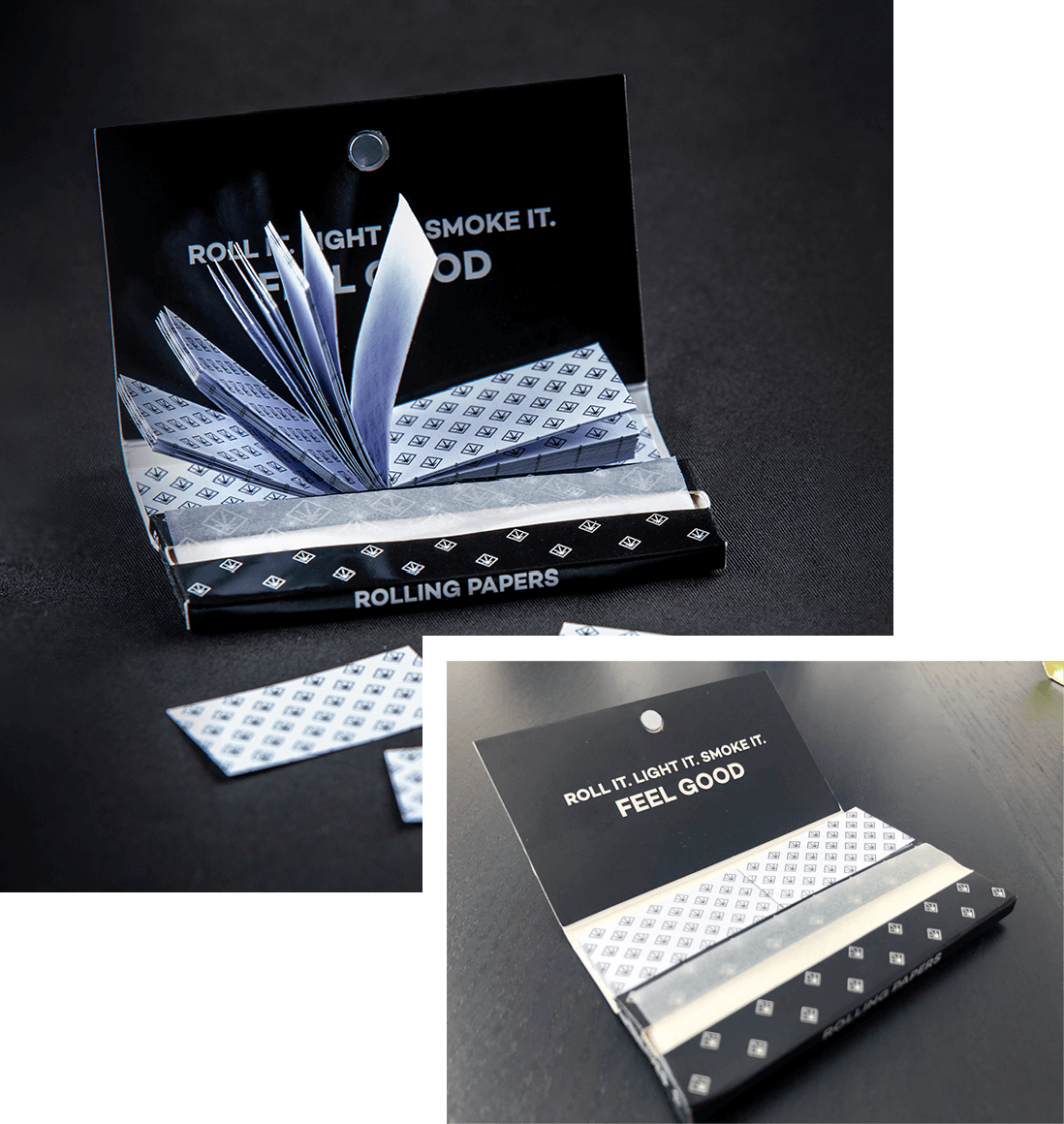 Make your own brand of custom cones
Pre-Rolled Cones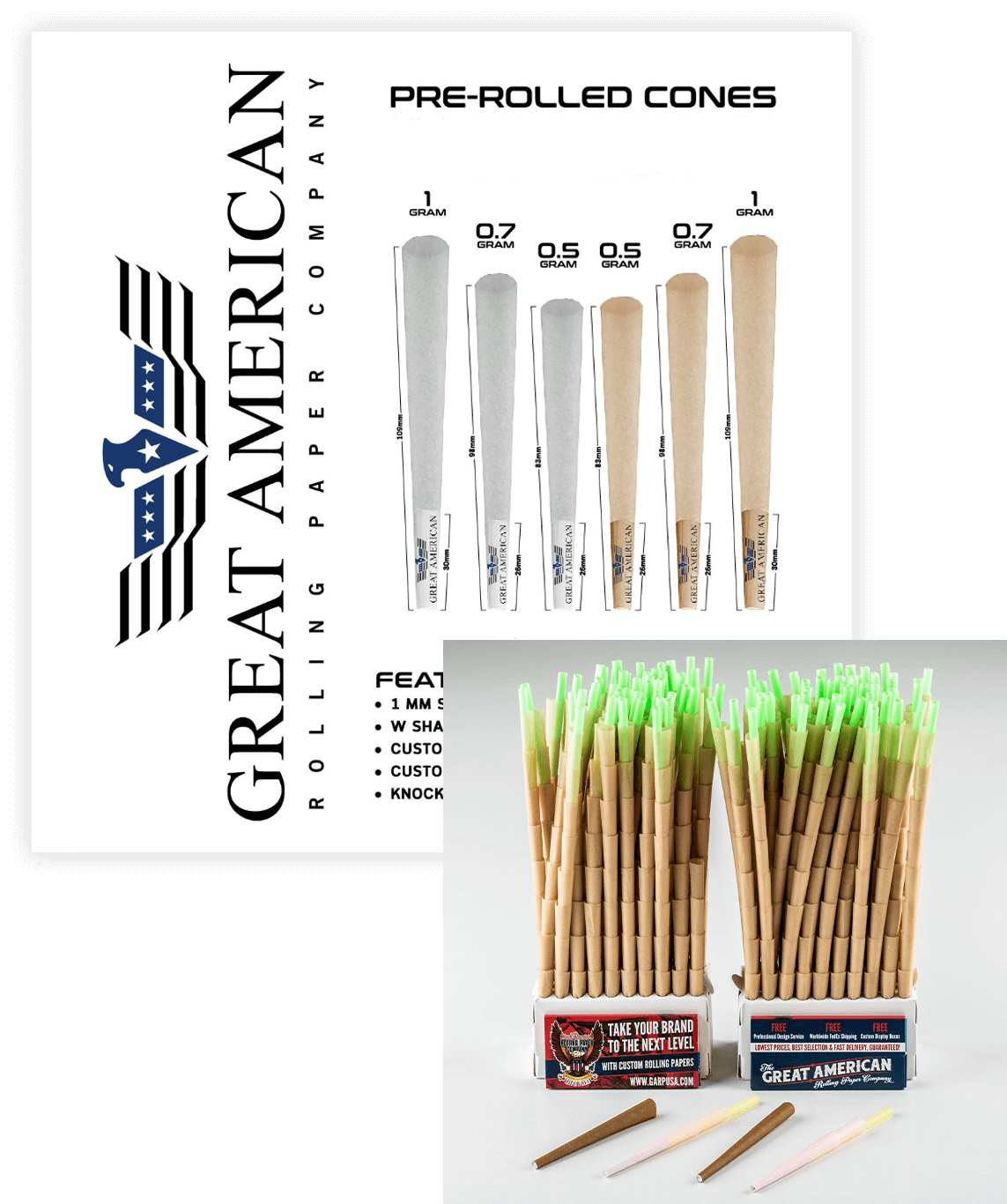 We offer a full line of cone customization to fully deliver your ideal product. We can produce any size and dimension cones and filter tip combo. Send us your design, or have us create it for you. Choose your paper type, filter tips, and packaging choices to complete your order. Showcase your display box with fully printed artwork to show off your designs and promote your products with style.



Custom Filter Tips




Printed Cones




External Filter Tips



Customized Cone Sizes




Themed Cones




Pre-rolled tubes
Features
Personalize your product packaging
Cannabis Packaging
We offer a full line of dispensary product packaging for all dispensary needs ranging from tincture boxes, child resistant containers, oil and concentrate jars, and more. Showcase your display box with fully printed artwork to show off your designs and promote your products with style.



Custom Packaging




Tincture Boxes




Childproof Vape Boxes



Pre-Rolled Cones Packaging




CONCENTRATE BOXES




Custom Embossing
Features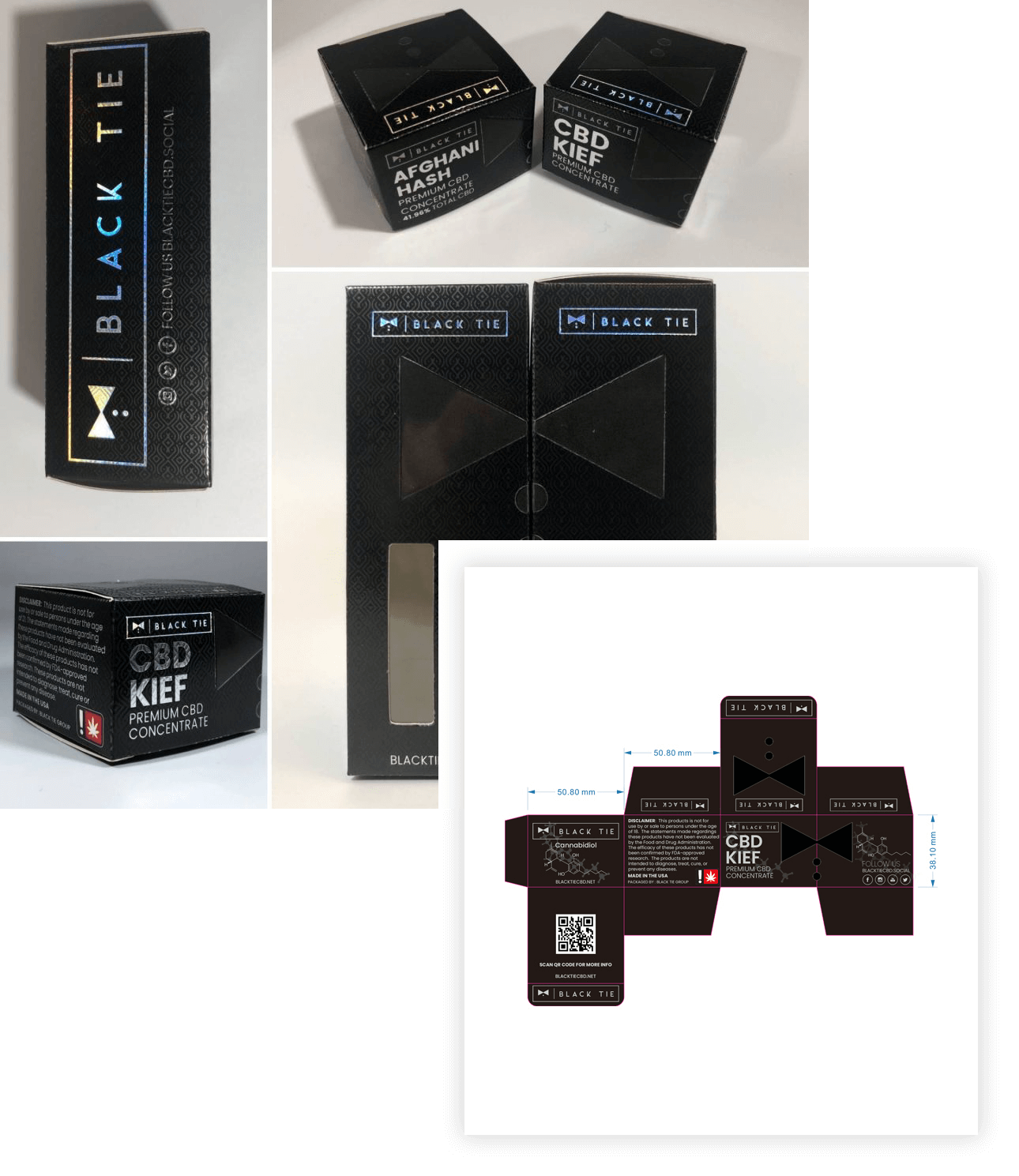 Custom Branded Accessories
Branded Cannabis Accessories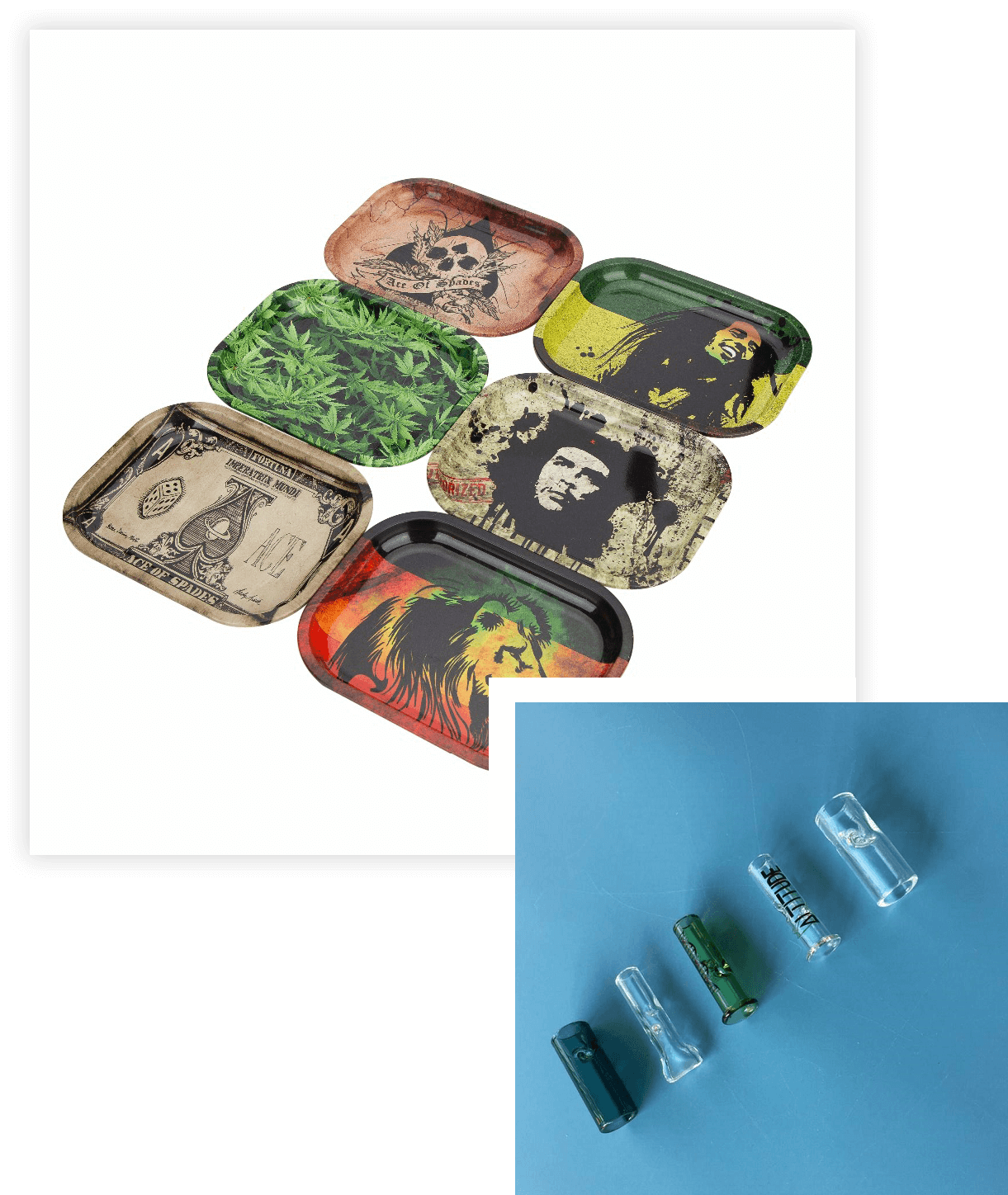 We have a full line of cannabis custom accessories from grinders, rolling trays, doob tubes, and more. Visit our cannabis accessories page to learn more about the customization products we offer. Showcase your display box with fully printed artwork to show off your designs and promote your products with style.



Herb Grinders




Doob tubes




Rolling trays



Glass filter tips




Smoker survival kits




One hitter
Features
Create Your Own Branded Dispensary Supplies.
We specialize in Cannabis Businesses, Marijuana Dispensaries, Growers, Smoke shops & Head shops,
Musicians, Artist, Brands, Awareness Campaigns, Music Festivals, Conferences and more…
PROMOTE YOUR BUSINESS
Custom branded products are the new business cards of the marijuana industry. Call us to speak more about how we can help you promote your cannabis business by using custom rolling papers, pre-rolled cones, grinders and more. It's a great way to reach other customers that are in your target audience.
CREATE YOUR OWN BRAND
Want to start your own line of custom branded cannabis products? Nobody understands your cannabis business branding needs better than us. Our experience includes working with some of the top successful name brands in the marijuana industry to launch their own line of custom cannabis products. We've provided everything from their own custom cones, rolling papers, product packaging and more.
TARGET YOUR AUDIENCE
Using custom rolling papers and pre-rolled cones for promotions is a great way to reach your target audience and get infront of your buyers. Rolling papers get passed around and shared with friends which make them a perfect way to help spread the word with others.
Please fill the below form.
Product Catalog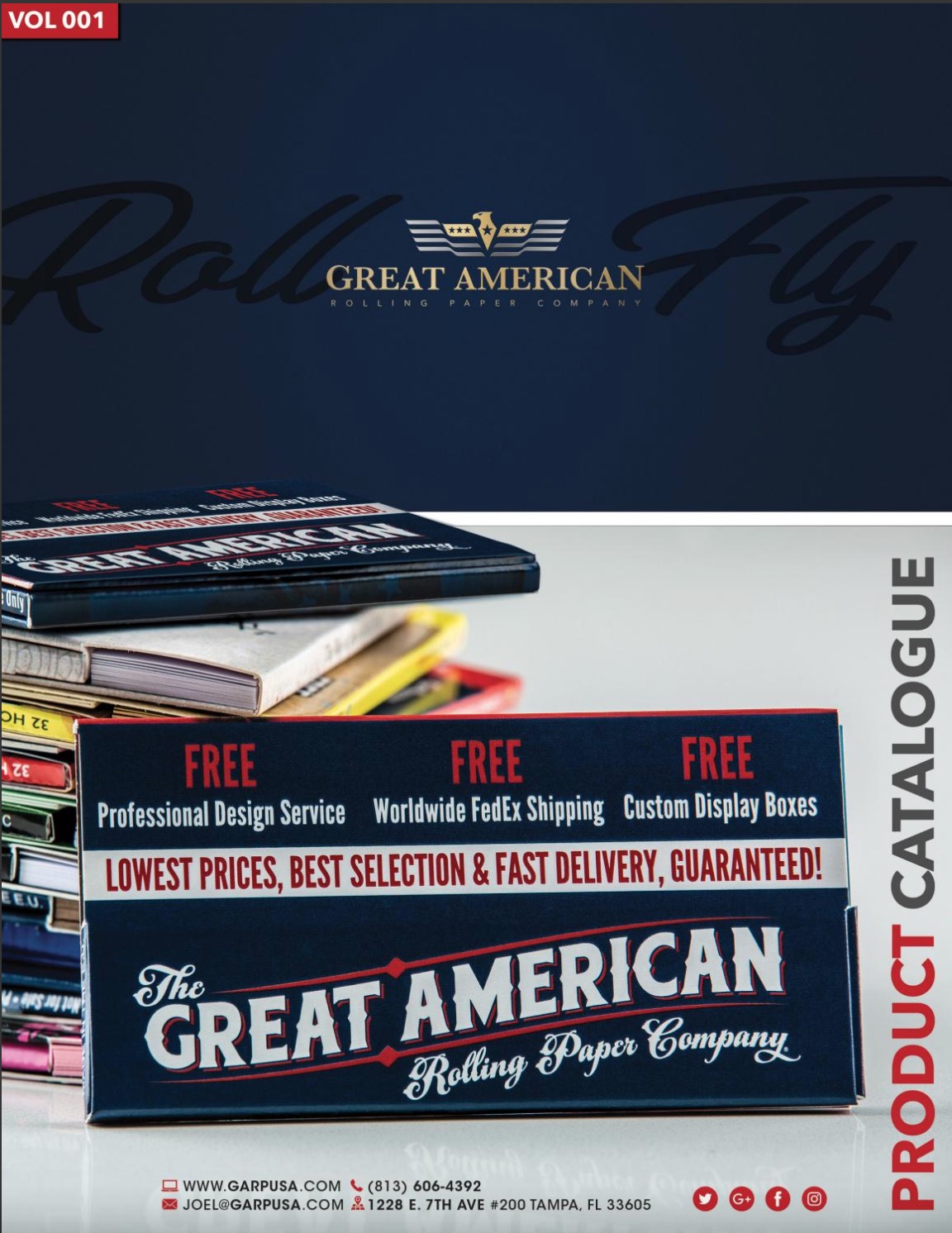 24/7
American Owned , American Operated
Lowest Prices.
Best selection.
The Great American Rolling Paper Company (GARP Co.) designs and creates a variety of branded products ranging from rolling papers, to pre-rolled cones, accessories and more for for large events, celebrities, smoke shops, and more anywhere in the world. GARP Co. also produces high-end natural branded rolling papers, free of damaging chemicals, and is 100% organic.
The company is located in Ybor City of Tampa, FL — in the heart of what was the Cigar Capital of the World in the 1930s. The GARP Co. rolling papers are perfect for customers ranging from celebrities, dispensaries, the restaurant and bar industry, high profile events and celebrations, to the cannabis industry, and more that wish to take their brand from concept to design.
Visit Our Product Catalog Page